Kōrure Marine Phospholipid Oil NZ GreenLipped Mussel Joint Support
Regular price
Sale price
$49.90 NZD
Unit price
per
Sale
Sold out
Green-Lipped Mussel Oil, the only thing 100x more effective than Fish Oil.
Brain & Cognitive Support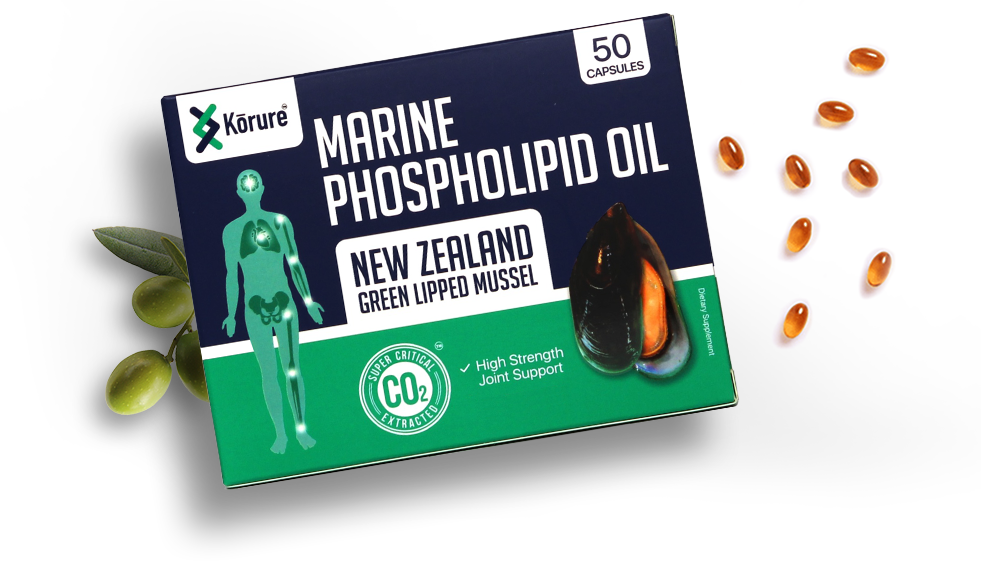 30+ Essential Fatty Acids

Including Omega 3 (EPA, DHA, ETA & More!)

Found in the clean waters of New Zealand.

Packed with Vitamins and Antioxidants. 

Less than 9mm and no fishy burps!
Marine Phospholipid oil includes clinically-studied omega-3s that deliver benefits to the body's cell membranes, in turn, influence systemic health.

Inflammation 

 

Formula

Dosage
Simply, inflammation = joint pain. 
There are many underlying conditions that directly leads to inflammation. Commonly it comes in different forms of arthritis. Research on what type of joint pain you have and consult with a doctor to determine best course of action.
---
---
Wear and tearby age or injury.
---
---
Built up of acidic'crystals' in joint.
---
Sport activitiesor injuries.
---
How Marine Phospholipid Oil Defeats Inflammation...
Many international studies suggest benefits of green lipped mussel. These benefits have a positive impact in various parts of a human body.
DHA in omega-3 have a positive correlation with the overall cognitive ability in the brain.


Pregnant women's omega-3 consumption correlates with higher scores on children's tests of intelligence and brain function in early childhood.

Help with depression with effects comparable to those of antidepressant medications.
Reference:

*1 ncbi.nlm.nih.gov/pmc/articles/PMC4404917/

*2 ncbi.nlm.nih.gov/pubmed/12509593
*3 ncbi.nlm.nih.gov/pmc/articles/PMC4872453/

Improves cardiovascular health and lower risk of heart failure.
Omega-3 lowers risk of stroke and cardiovascular disease.

Omega-3 lowers blood pressure and heart rate

Reference:
*1 nejm.org/doi/full/10.1056/NEJMoa1811403
*2 ncbi.nlm.nih.gov/pubmed/30019766
*3 ncbi.nlm.nih.gov/pubmed/10454450
Improves breathing in some people with asthma.
Reduces how much rescue medication is needed by people with persistent asthma.

Help decrease airway inflammation makers.
Reference:
*1 ispub.com/IJAAI/8/1/14161
*2 ncbi.nlm.nih.gov/pubmed/23660397
*3 ncbi.nlm.nih.gov/pubmed/23660397
Joint Health*
Supports connective tissue and joint mobility.
Natural anti-inflammatory properties to fight joint pain.


Rich in lipids and fatty acids such as omega-3s.
Reference:
*1 ncbi.nlm.nih.gov/pubmed/22366869
*2 ncbi.nlm.nih.gov/pubmed/18222988
*3 ncbi.nlm.nih.gov/pubmed/17543561
Share